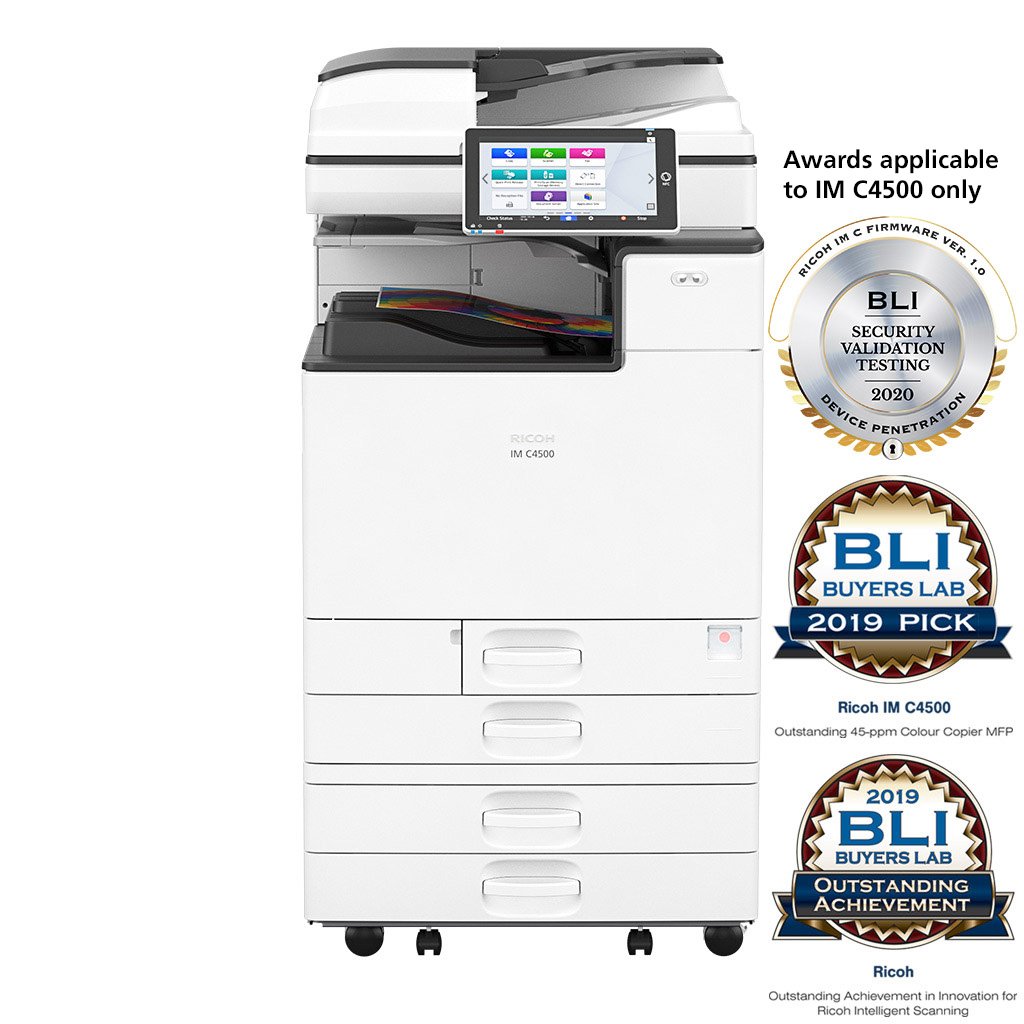 Back
IM C4500 / IM C4500LT
A3 colour MFP
Copy, print, scan, optional fax
Prints up to 45 ppm
Continuous updates via RICOH Always Current Technology
RICOH Smart Integration workflows
Upgrade to a higher level of performance
Showcase the scalable intelligence and share more information with incredible speed, precision and reliability. Built on RICOH Always Current Technology (ACT) platform, the device can be updated quickly with new features to simplify and expedite tasks all from the Smart Operation Panel streamlining your workflows with speed and new technologies.
Digitise messages to energise workflows
Scan documents at up to 240 images per minute using the Single-Pass Document Feeder
Put energy to good use
Enjoy powerful performance using less energy
Respond with information faster
Check settings, add widgets, toggle between tasks with incredible speed with responsive 10.1" Smart Operation Panel
Take everything and everyone into account
With user authentication, you can hold printed output until an authorised user releases the job with a passcode or optional card reader
Make a lasting impression
Captivate audiences with professional output produced at a fast 45 pages per minute. With continuous recalibration and an optional Fiery® E-25C Colour Controller, you can create exceptional, economical reproductions with precise text and vivid colours. Choose from many finishing options, including an internal Multi-Folding Unit and a Hybrid Stapleless + Stapler Finisher making it easier to produce more document in-house.
Connect with RICOH Intelligent Support*
Help is easy to find. With RemoteConnect Support, you can share access to your Smart Operation Panel and get expert advice from our Customer Support Centre. Or, perform device management in-house using the Remote Panel Operation tool. Watch how-to videos directly from the Home Screen for easy toner replacement.
*Internet connection required.
Request a consultation
Download PDF brochure
Request a quote and empower your digital workplace with us
Whatever your business needs there's a Ricoh specialist ready to help create the ideal solution to improve your work life. Hit the 'Request a quote' button, complete the form with your details and we'll contact you within 24 hours to discuss your requirements.
Copy, print, scan, optional fax
Prints up to 45 ppm
Continuous updates via RICOH Always Current Technology
RICOH Smart Integration workflows