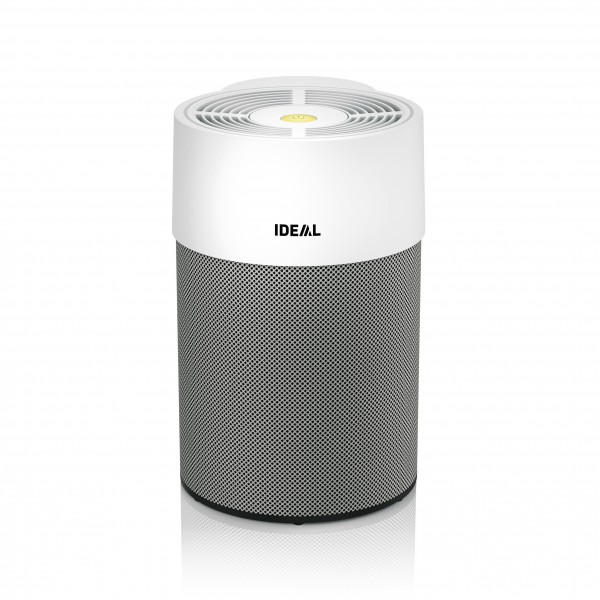 Back
IDEAL AP 40 PRO Air Purifiers
The compact high-performance model combines straight-forward design with highly efficient air cleaning
For room size of 30 - 50 m².
High performance 360° filter
HEPA filter technology
Highly efficient air cleaning
Easy touch panel
GreenTech EC motor
Reliable, effective and compact air purifier for pure indoor air
The compact and powerful air purifier for pure indoor air – for room sizes of 30 to 50 m²*. Novel 360° multi layer filter system with long life HEPA filter technology and highest amount of specialized active carbon.
Control Panel
Easy-Touch control in an intuitive and comfortable way. Functions: On/Off, Auto, Level 1/2/3, Turbo and Nightmode.
Status Indicator
The current air quality is indicated in a three-colour code via LED in the Easy-Touch panel.
High Performance 360° Filter
The high performance 360° filter consists of a fine mesh prefilter, true HEPA filter and a layer with a very high activated carbon portion. Due to the circular design, the whole filter surface is optimally utilized. Optional textile cover.
Comfortably Control
IDEAL AIR PRO" App enabling further control and survey of your device. Available at Google Play & Apple App Store.
Super-silent Operation
A distinctive feature of the device is its low running noise. This makes it ideal for sleeping rooms and children's rooms.
Compact Power Package
The integrated GreenTech EC motor provides up to 50% lower energy consumption compared with AC solutions and, in addition, is ultra-silent.
Remote Control
The AP40 Pro can also be controlled easily via remote control.
Premium textile cover
High performance turbo mode
Low energy consumption
Ultra quiet operation
Night mode
WiFi Connection
Corresponding app free of charge
Superior sensors for automatic mode
Remote control
Recommended for allergy sufferers
Against chemicals & smells
Against PM2.5 particles and NO