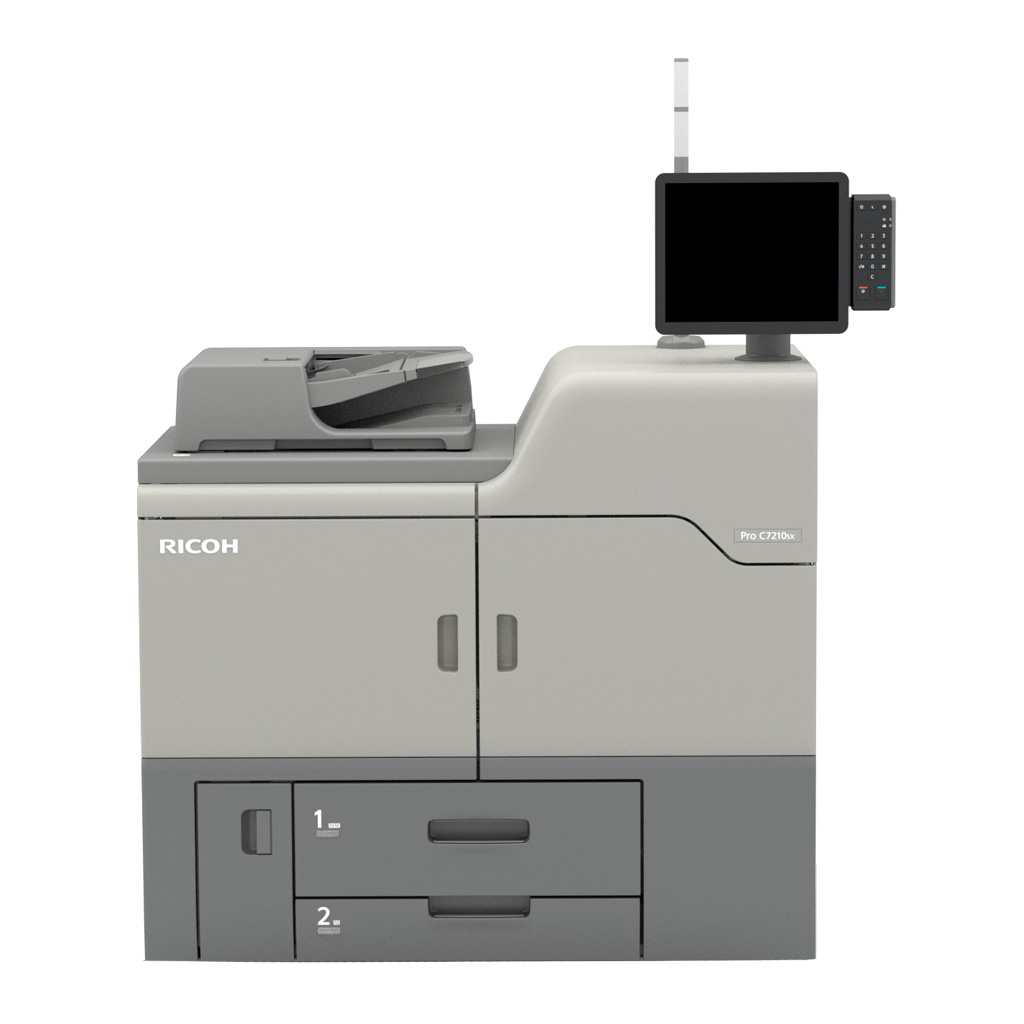 Back
Pro C7200S
Colour production printer
Copy, print, and scan
Prints up to 85 ppm
Up to 360 g/m2
Banner sheet duplex printing
Expand into new markets
Ramp up your business and offer efficient scanning and printing to attract customers with focused marketing campaigns
Grow your business and meet tight deadlines, with affordable, high capacity colour printing
Accept more types of print jobs and meet deadlines easily. The Pro C7200S prints high resolution colour to produce a wide variety of applications.
More opportunities, less cost
Deliver beautiful output on short print runs and appease demanding customers. Print a wider range of jobs with double-sided, oversize printing up to 700 mm in length and on heavy weight stocks up to 360 gsm. The paper library makes sure everything is calibrated and ready to go. Further streamline your workload with inline finishing options, ranging from perfect binding and hole punching to multi folding and ring binding.
More paper, less downtime
Paper capacity can be increased to 16,200 sheets
Print on heavily textured stock
Amaze your customers with impressive coverage and rich appearance on deeply textured stock
Precision that delivers
Maintain precision with high definition imaging and mechanical paper registration
Do it yourself
Handle maintenance issues in house with Trained Customer Replaceable Units (TCRUs) to maximise uptime
Find what you need
Use the paper library to configure jobs for specific media and stocks
Stay in control
Choice of two EFI Fiery controllers or Ricoh TotalFlow controller with direct connectivity to Heidelberg Prinect, Kodak Prinergy or Screen Equios workflows
Scan and send
Scan colour jobs and share them straight from the device for fast review and approval
Finish it off in style
Improve turnaround times and increase your print capacity. Ricoh's line of finishers make it easy to print more types of documents, quickly. Create professional saddle-stitched booklets with minimal effort using the booklet maker, folder and trimmers. Fold media in multiple styles to give customers more options. Collate, bind, punch, trim and add or close rings with minimal manual intervention.