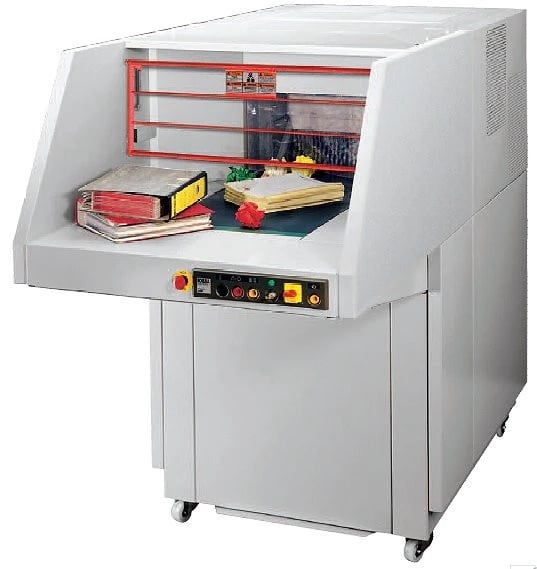 Back
IDEAL 5009-3 Cross Cut Shredder (6 x 50mm)
SIMPLY GIGANTIC
1714X1036X3070 mm
1130 kg
300 – 400 sheets (70 gsm)
250 – 350 sheets (80 gsm)
Cross Cut
SIMPLY GIGANTIC: FOR REALLY LARGE QUANTITIES AND COMPLETE LEVER ARCH FILES
Large feeding table with conveyor belt and electronically secured safety guard in the feeding area.
Control panel for forward/stop/reverse.
Safety lock and key, main switch and emergency cut-off switch.
Optical indicators for the operational status of the machine.
«2-MATIC» – two automatic speed levels with automatic adaption of the shred speed to the paper quantity fed.
Electronic control prevents overfeeding: automatic reverse and refeeding in case of paper jams.
Automatic cut-off if the shred bag is full.
Centralised oiler for effective and convenient lubrication of the shredding head.
Large shred compartment with electronically secured door on the rear side of the machine.
Shred trolley with plastic bag mounting frame and 300 litres capacity.
Powerful three phase motors (9.0 kW).
Thermal motor protection.
Robust shredding heads with special hardened cutting shafts made of high-quality steel, resistant against soft metal objects.
Machine mobile on castors.
Accessories at an extra cost: second shred trolley and a modular conveyor belt system for the shred exit area.
1 year warranty
Made in Germany
OPTIONAL ACCESSORY:
MODULAR CONVEYOR BELT SYSTEM
Offers flexibility for individual shred disposal needs. Output of the shredder can be doubled using this system (removing the full shred bag is not necessary).
Easy and secure mounting – through the open door of the shredder, the modular conveyor belt system is placed into the shred exit area and locked.
Electric belt drive (100 Watt motor), controlled by the shredder electronics. Electrically secured locking system. Mobile on castors.
Please click here for more information