Empowering digital workplaces: Ricoh launches new IM series of intelligent devices
Dynamic Workplace Intelligence helps customers boost productivity and businesses stay agile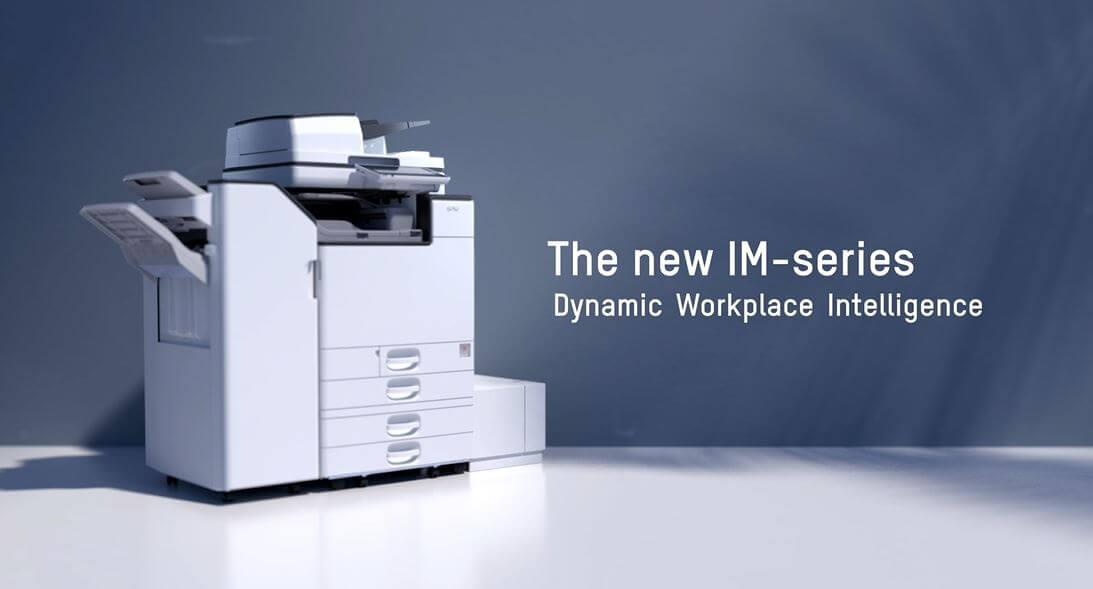 Ricoh Hong Kong Limited (Ricoh) has announced the launch of Dynamic Workplace Intelligence, a scalable yet affordable platform offering intelligent technology and support, with smart solutions and advanced applications that boost productivity.
Today's businesses need agility to stay competitive in our fast-changing digital world. By continually improving its products and solutions, Ricoh enables its customers to respond quickly to evolving work styles and technologies. New functions and enhancements take time to research, design and manufacture, however. To give customers access to the most high-tech workflow and business solutions as soon as they hit the market, Ricoh has launched the IM series of intelligent multifunctional copiers.
Ricoh IM series is a new era of technology that keeps your workplace up to date as is an intelligent device. Device and technology that is designed to grow and adapt, just as your business does.
Always Current Technology update your Ricoh multifunctional devices by downloading the latest features to help you optimise your document management workflows.
Intelligent Support combines highly experienced customer engineers with the latest technology to provide a maintenance service like no other.
Ricoh Smart Integration, a platform which provides cloud-based apps and workflow integration.
EZ Plus, apps empowering you to have an edge to your day-to-day workflows, carrying out duties more effortlessly.
Scalable, secure, sustainable, simple
Nowadays, we all expect new technologies to become outdated before long. To solve the issue of products becoming obsolete before their end of life, Ricoh's new IM series works on the same principle as a smart device. Customers can install any application, when they need it, and the app will automatically stay up to date.
With Ricoh's Always Current Technology, the capabilities of customers' intelligent multifunctional copiers can grow as their business scales. The latest features, firmware updates and interface enhancements will be automatically downloaded from the platform as soon as they're available. Device capabilities will remain current and ready to meet the needs of a dynamic workplace.
Ensuring data security is of paramount importance to today's business owners. The IM series' extensive security features effectively manage documents and information, while protecting data to the highest security standards.
Customers may want to avoid expanding their environmental footprint, even as they grow their business. Ricoh's intelligent devices have one of the lowest energy-consumption levels in the industry. Power-saving features include motion sensors that save time and energy. Resources are protected through paper saving and toner-bottle recycling, while the device itself is built with recyclable plastics.
Sophisticated should not mean complicated, either. The IM series' Smart Operation Panel is as intuitive to use as a smart device. The panel is easy to personalise, with smart support features for maximum productivity. Thanks to Intelligent Support, by using real-time RemoteConnect Support, customers can receive a quick diagnosis and have their device fixed remotely, minimising downtime. To troubleshoot simpler issues, they can use the panel to access web help and how-to videos.
Intelligent devices, state-of-the-art apps
In tandem with the IM series, Ricoh is also unveiling a comprehensive suite of cloud-based applications and solutions, catering for organisations of all sizes. Handy features include instant scanning to cloud-based apps for quick access to information shareable among teams. Scanned documents can be intelligently processed and routed to a selected folder or multiple destinations. Work efficiencies can also be improved by taking advantage of cloud workflows to reduce manual-data-entry errors.
By leveraging the power of intelligent devices and the cloud, Dynamic Workplace Intelligence enables Ricoh's customers to realise true productivity, without the need for additional investment in IT resources or on-site software.
About Ricoh Hong Kong Limited
Established in 1963 as a direct subsidiary of Japan's Ricoh Company Limited, Ricoh Hong Kong Limited is an ICT company specialising in office imaging, production printing, document management, and communications and IT solutions in Hong Kong and Macau. It is known for the quality of its technology, the exceptional standard of its customer service and its unrivalled sustainability initiatives. According to leading market research and advisory firm IDC, Ricoh has remained the No. 1 brand* in Hong Kong's overall digital copier market for 19 consecutive years (2000-18) in terms of unit shipments. Recently, Ricoh Hong Kong has also introduced cloud services and managed IT services, in addition to business process management and video surveillance solutions. With support from its professional technical team, Ricoh Hong Kong aims to provide a one-stop consultation and after-sales service to customers. In 2017, the company launched Digital Workplace Services, designed to help customers implement innovative ICT solutions in their work environment and build a modern, high-efficiency office.
* Source: IDC Asia/Pacific Quarterly Hardcopy Peripherals Tracker, Q4 2018