The age of AI and big analytics - How Dedicated Private Cloud helps a surveying firm manage massive data
Recently, the Hong Kong government unveiled the Northern Metropolis plan to develop the New Territories. Meanwhile, Hong Kong is being fast transformed into a smart city. One can foresee that more land in the city will be available for development and the amount of new buildings will increase in the future. Well versed in the Hong Kong government's land development policy, the founder of PRUDEN, a surveying company with a history of 40 years and about 400 employees, has long diversified the scope of its business, which now includes project management, urban planning, engineering, property valuation, auction and real estate. Being so versatile, PRUDEN is able to provide customers with one-stop solutions. To capitalise on new opportunities, the company recently decided to adopt artificial intelligence (AI) and big data analytics. Under the plan, the real-life surveying data that PRUDEN has collected over the years will be utilised to understand building conditions and predict structural issues. But this gave rise to new challenges. With its data pool growing exponentially, PRUDEN's existing server could no longer cope. Ricoh is a long-term supplier of solutions such as Multifunction Printers and Interactive Whiteboard for different companies. After learning about the challenges facing PRUDEN, Ricoh's business consultants concluded that the company was in need of a stable, safe and flexible operation platform. They suggested a solution: Dedicated Private Cloud, which can help the client reduce storage costs, increase flexibility in data access and provide greater mobility.
目錄
The challenge of cloud migration, the need to guard sensitive data
A few years ago, PRUDEN began to supply a variety of high-tech services to its clients, including Building Information Modelling (BIM) and aerial surveying. These services involve an enormous amount of data. For years, PRUDEN had been storing data using traditional servers. But then the company had to spend a lot of time on procurement and system deployment . Meanwhile, all the new tasks were overwhelming. Besides, the plan to adopt AI and big data analytics would surely multiply the amount of data that had to be handled, aggravating the data storage issue. Knowing that traditional servers are outmoded, PRUDEN's management decided to adopt digital transformation and use cloud applications. Nevertheless, without the support of in-house specialists, the management was not aware that public cloud migration would give rise to compatibility issues. That added to the costs and hassle of digital transformation. Another issue was that PRUDEN has particularly high data security standards, not only because most of its employees work outside the office often, but also because the company's clients include government institutions and banks, meaning a huge amount of sensitive data is involved. The company must put in place a set of remote access applications that meet internationally recognised standards and security specifications. In addition, it must safeguard the security of network transmission channels.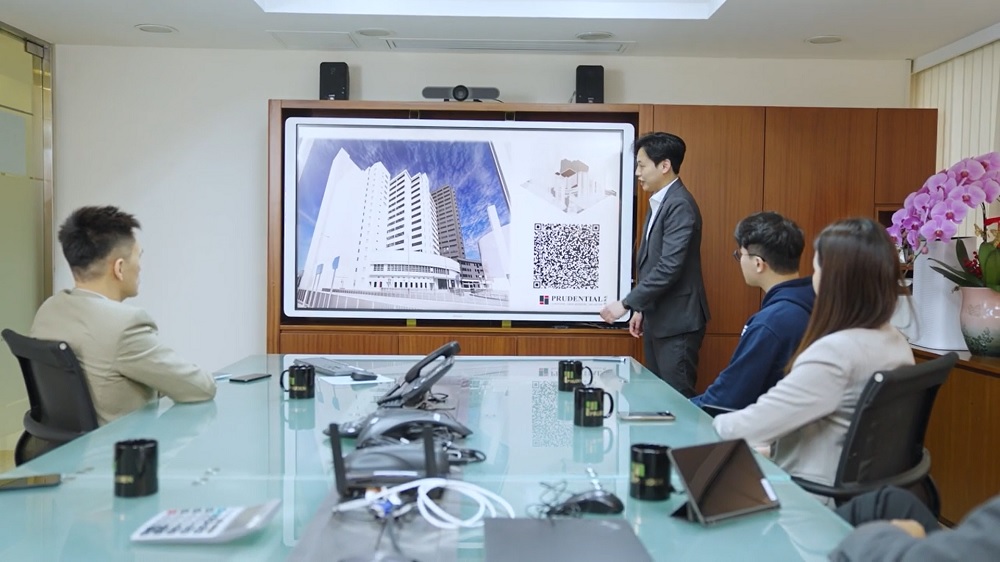 PRUDEN migrated part of their data to dedicated private cloud, to enhance their data retrieval efficiency and management transparency.
Easy expansion of data storage capacity, solutions to compatibility and security issues
Understanding the issues facing PRUDEN and the company's future business growth plans, Ricoh's business consultant team suggested the client to transfer some of its data to Dedicated Private Cloud. That would have the benefits of enhancing data access efficiency and management transparency, and enabling PRUDEN to expand its data storage capacity instantly and more flexibly. The move would also be in line with PRUDEN's plan to adopt new technologies, including AI and big data analytics, to promote business growth. The professional Ricoh team made an accurate assessment on the data transfer plan and also planned the entire process of public cloud migration for the client. They also tackled the compatibility issues surrounding the new and old systems while significantly shortening the time needed for digital transformation and minimising any problems arising in the process. In terms of network security, PRUDEN's management commissioned Ricoh's Network Operation Centre to monitor network data transmission. Relying on the professional qualifications of Ricoh's team members and the latest network security technology they provide, PRUDEN is able to monitor network traffic around the clock, seven days a week, thus safeguarding network security and ensuring the smooth operations of other cloud services.
Efficiency is of paramount importance in surveying and engineering. And now hybrid working is all the rage. So having good mobility is going to be the key for the client to stand out among its competitors.
Words from a Ricoh business consultant
"We understand that efficiency is of paramount importance in surveying and engineering. And now hybrid working is all the rage. So having good mobility is going to be the key for the client to stand out among its competitors. That's why our professional team helped the client build Dedicated Private Cloud and also suggested them to adopt Workflow Automation solutions. All these can boost employees' productivity and enable them to respond to questions raised by their customers and tackle them accordingly."
Consult with our Cloud Services Consultant Now