RICOH Hong Kong launches new Network Operations Center
RICOH Hong Kong, the most trusted workplace expert, is committed to providing a wide range of technological solutions that help businesses achieve more efficient Smart Workplaces. The unabating relent of local COVID-19 outbreaks has accelerated operational limitations and added to working difficulties across all industries. Gross Domestic Product during the first quarter shrank by 8.9%1 this year, the largest decline per quarter on record. Understanding that applications, architectures and the operational models of traditional offices are no longer suitable for many businesses, RICOH Hong Kong is innovating sympathetic solutions built around the "3 Smarts"; Smart Workplace, Smart Process and Smart Technology. The goal of this mission is to strengthen information mobility whilst sharpening productivity that strikes a balance between staff safety and serving needs whilst living under the "new normal". Standing firmly with organizations which are facing operational difficulties, the 3 Smarts sets to drive an all-encompassing "digital transformation" of business operational models to create opportunities.The global COVID-19 pandemic has induced massive and far-reaching risks, most notably in the serious decline of the global economy and heavy disruption of supply chains," said Mr. Aaron Yim, Managing Director of RICOH Hong Kong. "Apart from the disruption of daily activities for all citizens, day-to-day business operations for a large majority of commercial operators has been hit even more severely. Remote working, automation of operational process, video conferencing and the like have become the new normal whilst we work under the constant threat of the pandemic. With the increasing popularity of Internet of Things (IoT) applications, all of the changes show that the market for smart offices is continuing to expand. As the companies' business operating partner, RICOH Hong Kong launched a new Network Operations Center to break the old tradition with innovative office concepts and provide customers with integrated support. And to meet the needs of enterprises for improving efficiency, reducing costs, optimizing customer experience and rapid business changes.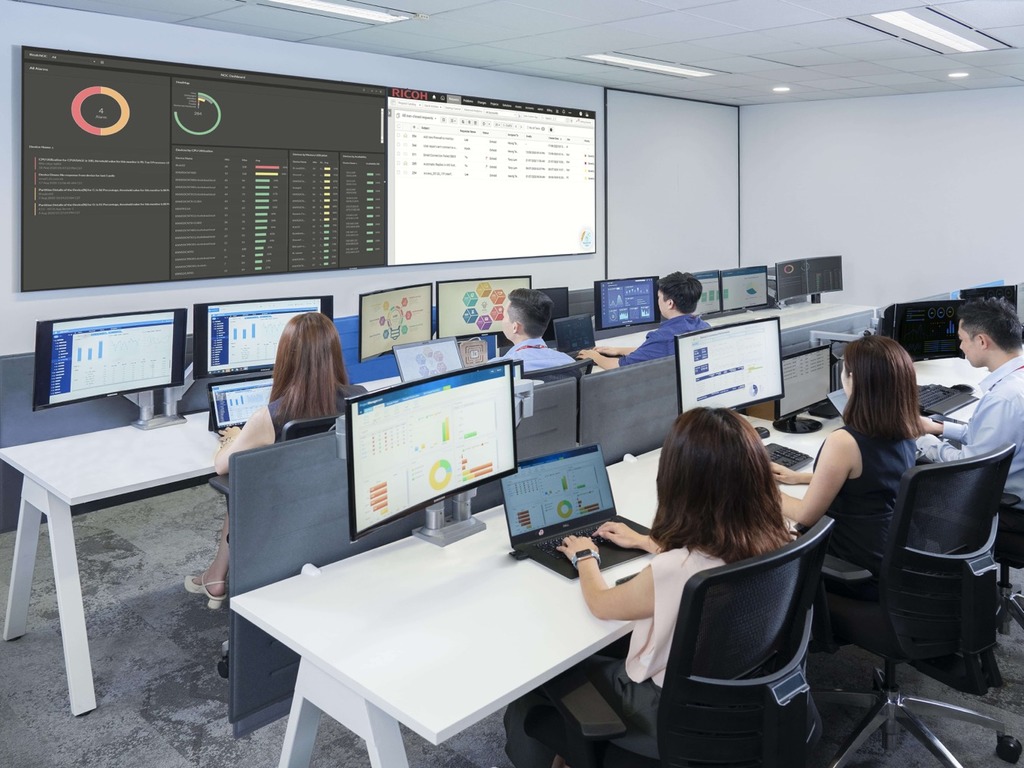 Launch of a brand-new Network Operations Center – Creating new business models which support operators under the new normal
In response to working in the "new normal" post-pandemic world, RICOH Hong Kong established its Network Operations Center in mid-June this year. The facility aims to provide continuous support to customers by building and operating a secure cloud computing, monitoring and control center for Smart Workplace and evolving methods of business. With the spread of "Work From Home culture", cloud computing, IoT devices and distributed ICT applications technology is now highly relevant across multiple types of environments. In contrast, the means of cyber-attacks have also become more sophisticated. Thus, RICOH Hong Kong is committed to addressing the prime concerns of enterprises regarding cyberthreats and the subsequent need for maintaining the highest standards of cybersecurity. The Network Operations Center provides a Security One-Stop Shop, offering Security Workshops, Design & Construction Validation, and Assessment & Analysis of Current Threats & Vulnerabilities. By making this available to customers, security standards can be continuously upheld and updated, and they will be provided with full support in the form of optimized security countermeasures in the face of ever-evolving cyber-attacks. Corporate enterprises and SMEs can now safely optimize their business remote deployments and business continuity plans through the use of cloud network integration which provides the highest possible levels of security.
Advocating automation of business processes, providing flexible, digitalized business models for enterprises
SMEs often encounter issues during widescale business reform. Other than technology and application considerations, cost is also a major factor that hinders effective business reform. With Workflow Automation, RICOH Hong Kong helps companies achieve true consolidation and effective reporting by automating the consolidation of mass data at an accessible cost. Its electronic system can also handle and approve certain applications related to human resources workflows, including the automation of employees' profile management, salary, leave, taxation and employment history records. Employees can enjoy paperless operations when applying for leave, checking remaining balance of available holiday entitlements and can even download pay-slips and end-of-year summaries by smartphone. Paperless operations, for HR workflows and across all business areas that can benefit from enhanced automation, brings flexibility in daily operations so employees can focus more of their time on complex tasks, or more pressing issues when trying to effectively respond to customer requests.

In facilitating the SMEs' operations through Workflow Automation during the pandemic, companies can adjust division of labor and operational strategies promptly without spending extra time or using up newly-liberated space when adjusting allocation of human resources or financial systems. By positively transforming repetitive workflows by way of automation, this helps businesses free up vital human resources for higher value tasks, and thus enhances productivity.
"Outdated" traditional office experiences a further shift from remote work to the IoT SMART Workplace
Faced with the New Normal, many companies are reconsidering how they invest in office layouts and resulting access to technological devices. RICOH Hong Kong recognizes the necessity of having a more flexible workplace, including an effective space utilization plan, technological support and functionality in use. First and foremost, this helps companies address the complicated issue of reopening offices. Safeguarding workplace hygiene as well as the health and wellness of employees and visitors are the top concerns of businesses in the post-pandemic age. For example, facility management teams are seeking alternative ways of organizing and running operations to keep them going.

They must also consider how maintaining physical distancing can be prioritized when creating functional workspaces. While helping to keep operations manageable, introducing more Smart devices improves workflows, such as with RICOH's cloud-based Interactive Collaboration Board and integrated tasks such as video conferencing, document printing, etc. With IoT technology in place, Smart sensors facilitate workplace management, including lighting system, temperature and air quality control. Sensors are also able to surveil and identify health condition indicators of staff members, and data collected from the sensors can be sent to a central database or used to issue priority alerts. The information can then be used for further analysis, appropriate device control, or to drive business organizational planning and strategies. The application of these Smart technologies not only enhances energy efficiency but also creates a secure digital workplace in which employees can thrive, through supportive, appropriate and intelligent workspace design powered by RICOH Hong Kong.
1Source: p.3 ; General Observations; "Gross Domestic Product (Quarterly)"; 2020-05-15; Census and Statistics Department, HKSAR: https://www.statistics.gov.hk/pub/B10300012020QQ01B0100.pdf
###
About RICOH Hong Kong Limited
Established in 1963, RICOH Hong Kong Limited is a direct subsidiary of RICOH Co., Ltd., focusing on document processing and imaging products, digital printing solutions, document management solutions and information technology services. It has provided Hong Kong and Macau enterprises with outstanding, diversified business operating solutions and services.

In the era of digital transformation, RICOH Hong Kong aims to be the most trusted workplace expert through market-leading innovative technologies and services, as well as the "3Smarts" solution created by Ricoh Hong Kong: Smart Workplace, Smart Process and Smart Technology, which together lead employees to achieve a smarter, more advanced, more efficient working mode in the workplace as it evolves. In recent years, it has also actively developed professional ICT services, including business process management, cloud services, IT hosting services, and security monitoring solutions. In cooperation with IT professional support teams, it provides one-stop consulting, after-sales and professional services to SMEs and enterprises.