Using data and technology to optimize costs and enhance well-being of employees
What is Digital Facilities Management (DFM)?
Digital Facilities Management refers to the integration of technologies, people and processes to enhance the management of a building's facilities. With the adoption of emerging technologies in big data analytics, IoT and AI, companies can greatly improve communications, reduce operating costs, streamline business processes, as well as enhance employees' well-being and productivity.
With years of experience in optimizing workspaces across industries, Ricoh is your one-stop facilities management service & platform provider in developing a flexible and smart workplace.
Top facilities management market trends

Outsourcing Evolution 1
By 2025 the global outsourced market in FM services will be worth $1 trillion. Outsourcing is delivering more complex services over time.

The Smart Workplace 1
25 billion connected things will be in use by 2020 up from 4.9 billion in 2015. Smart buildings with lights, sensors, windows, HVAC units, doors and CCTV integrated into a network will be increasingly common.

Integrated Facilities Management 2
Integrated facilities management (IFM) services are the top FM trends as it allows companies to centralize different facilities management contracts under a single service provider.
So you will
Receive support from experts in different areas such as network & security, business process management, employee well-being & workplace hygiene etc.
Save the time required to manage multiple service providers
Enjoy significant cost savings
Sources:
1 CBRE Report: Top Trends in Facilities Management – How Society, Demographics and Technology Are Changing the World of FM
2 Business Wire: Global Integrated Facility Management Market – Procurement Market and Intelligence Report
To Get Started
The four key areas where you can digitize your Facilities Management (FM) functions.
End-to-end digital FM services

Streamline operations by using IoTs to manage lighting, temperature, employee / visitor access

Workplace productivity & retention

Enable flexible working as employees are equipped with advanced tools to work anytime anywhere they want

Energy & sustainability

Drive energy savings with real time tracking of usage patterns for analytics and continuous improvement

Regulations & compliance

Reduce time spent in data collection for compliance report as paper-based, labor-intensive processes are digitized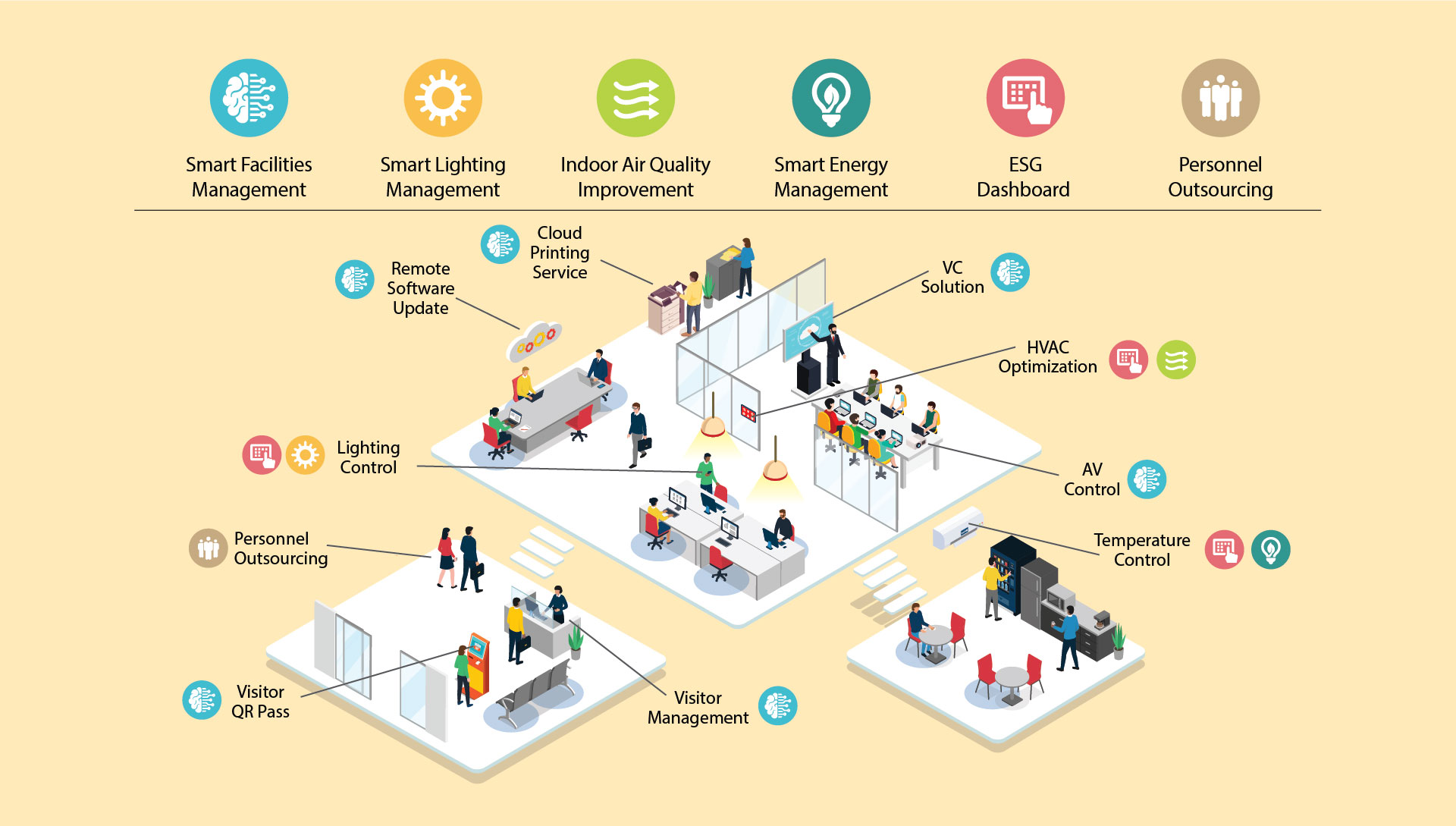 Ricoh Digital Facilities Management ecosystem
A new facilities organization and managment approach is required to meet workplace demands today. With years of experience in optimizing work environments across industries, we have the people, processes, technologies to help improve the way you work.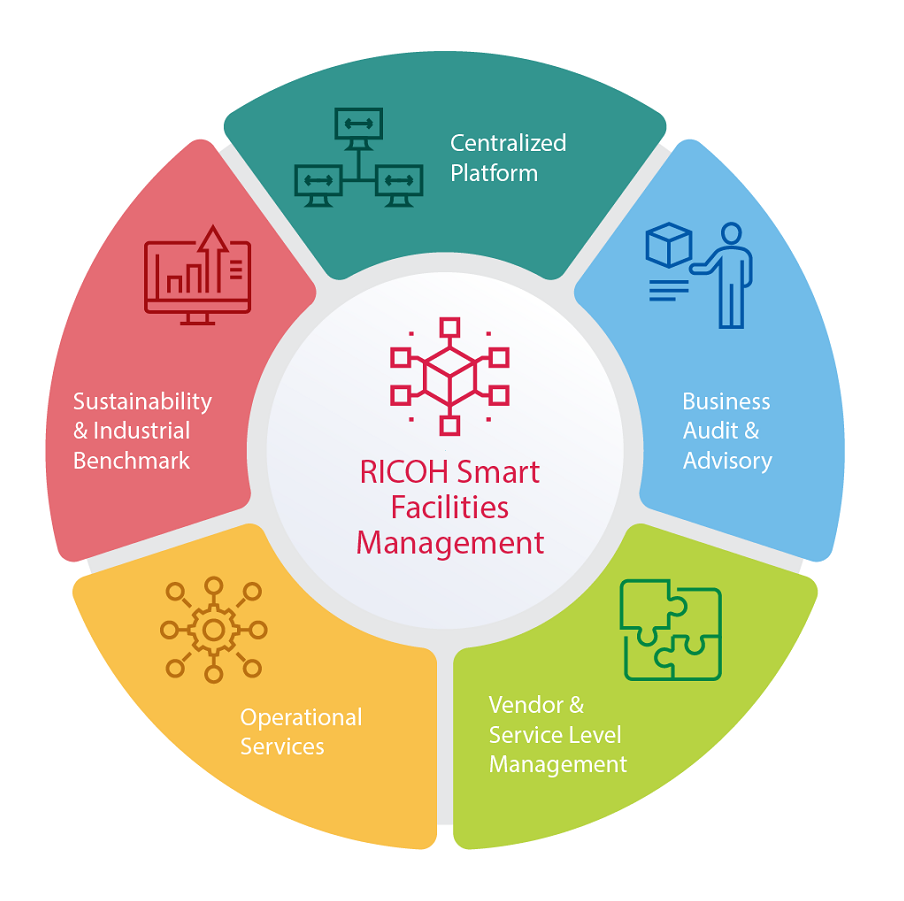 Visit here to learn more about how you can optimize your workspace with digital workplace design or check out our local case studies that have achieved greater productivity through office re-design and adoption of the latest workplace technologies.
Smart facilities management
Our Smart Facilities Management Services cover the full spectrum of FM tasks from space optimization; preventive maintenance; visitor access management; on-site printing; IT, AV & IoT management to remote software update. This is your one-stop solution to optimize your workspace, enhance mobility, reduce costs, and ultimately create an engaging workplace experience within your organization.
Why?
Capitalize on remote working
Optimize office space usage
Reduce overhead expenses in non-core business areas
Meet AV and IT inventory management challenges
Smart energy management
With Smart Energy Management, you can manage and track your facilities' energy data including the building's energy usage, temperature and humidity level in real time. The data captured may provide insights on your energy consumption patterns, and help you to define a data-driven strategy on energy conservation.
Why?
User-friendly interface
Interactive graph analytics
Incorporate weather conditions, floor area, occupancy for an accurate assessment of performance
Instant alerts and custom reports
Indoor air quality improvement
Indoor air quality (IAQ) imposes significant impact on employees' well-being and productivity. For good indoor air quality, air within a building should have comfortable temperature and humidity, adequate air ventilation, and control of airborne pollutants.
Our comprehensive IAQ solutions are designed to harness various means of removing unwanted air pollutants including viruses, bacteria, fungi, mold & odor for commercial or institutional use. Whether you are looking for a standalone air purifier, a real-time IAQ monitor or an air treatment unit to keep track of your indoor air quality, we will have something best tailored to your needs.
Why?
Remove pollutants such as viruses, bacteria, TVOCs, odor & mold
Save 20%-40% HVA energy cost
Enhance ventilation with decreased levels of CO2
Improve employees' health and comfort
Drive productivity
Smart lighting management
Smart Lighting Management is a wireless lighting control system designed to enable intelligent office lighting control for optimized energy reduction and operational efficiency. It can be scaled up easily anytime by adding new controllers, or re-zoning lights with just a few clicks.
Why?
Quick installation – 70% faster than wired control solutions
Code-compliant for new construction and retrofits
Simply move, reprogram or add wireless devices without the need to rewire
One single app to control, adjust and reconfigure settings
Learn more
ESG dashboard
ESG Dashboard is developed to assist Hong Kong listed companies with ESG reporting and risk management. It streamlines data collection across different business operations, converts mass data into presentable charts and actionable insights.
Why?
Easy to use with built-in formulas
Save time and efforts in data collection
Real-time collaboration between different business operations by multiple users
Highly secure with data encryption and data access control
Personnel outsourcing
We provide Personnel services to support wide range of front and back office administrative activities including reception, cleaning, security guard service, inbound/outbound mail delivery, cafeteria & food service and complaints/requests handling.
Why?
Higher quality of work
Increase responsiveness and timeliness for maintenance issues
Reduce risk and liability of injuries
Savings on fixed costs including hardware, equipment and insurance
Digitalize your workplace now to bring your business to next level!