Helping you eliminate Paper-intensive processes
Open Bee Digital Platform enables your organization to roll out new business processes through cohesive document capture and management solutions. Open Bee Digital Platform is all about giving you the ability to get away from costly and unproductive paper based processes by implementing a new and better way of managing information.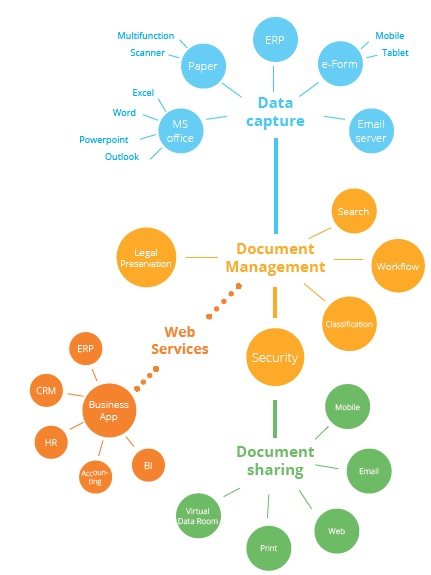 Out-of-the-box data filing capabilities


Easy to use document classification directly from your preferred desktop application (Word, Excel, PowerPoint and Outlook) or right from your Multifunction Printer's control panel.

Intelligent automation of data capture


Advanced documents recognition, separation and extraction technologies (artifical intelligence, machine learning, OCR, Barcode recognition...) for processing both semi-structured and unstructured documents (paper, email and electronic files).

Digital Forms


Intuitive electronic forms designer to automate data collection, approval and management right from your mobile device.

Document Management


Powerful web based platform designed to simplify the management of your live documents: version control, tagging, user roles and security, searching, audit trail, document linking, guest account user, rebranding...and more!

Document Workflow


Graphical workflow engine streamlining review and approval process of documents as they proceed through their lifecycle.

Content Security


Multiple features such as two-factor authentication, data encryption, read/download/print/export system rights, dynamic watermarks, advanced audit trail, virtual data room...to make sure your content is safe.

Mobility


User friendly iOS, Android mobile apps to view, edit and share any file on your Smartphone or Tablet device - instantly and securely.

File Sharing


Advanced intranet, extranet options that empower collaboration with your ecosystem (co-workers, customers, suppliers, business partners, etc).

Legal Preservation


Digital safe box to protect and secure your digital information for decades to come.

Business Apps Smart integration


Dynamic integration of extracted metadata and processed information with your ERP, accounting systems and business applications.
Unleash your digital potential
Open Bee digital platform enables your organization to quickly and effectively manage critical information captured during the processes.
Purchase to pay

Accounts payable

e-invoicing

e-form management

Payslip distribution

Enjoy more convenience with the Cloud version, find out more